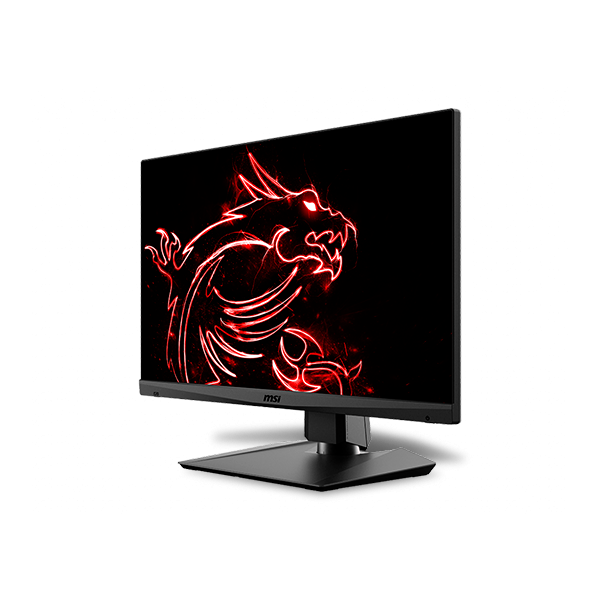 MSI OPTIX MAG274QRF- QD – 27 INCH GAMING MONITOR
DCI-P3 color gamut.
WQHD High Resolution – Games will look even better, displaying more details.
165Hz Refresh Rate – Respond faster with smoother frames.
1ms GTG Response Time – Eliminate screen tearing and choppy frame rates.
NVIDIA G-Sync Compatible – Prevent screen tearing or stuttering, producing ultra-smooth lag-free gameplay.
Gaming OSD App – Create the perfect viewing settings for your games.
Adjustable Stand – Easily change the position of the monitor for maximum ergonomics.
HDR Ready – Stunning visuals through contrast and shadow adjustment.
Night Vision – Smart black tuner to brighten your day by bringing out the fine details in dark areas.
Mystic Light – The ultimate gaming finish.
USB Type C – Effortlessly connect to any device.
Wide Color Gamut – Game colors and details will look more realistic and refined.]
PANEL SIZE27" (69cm)PANEL RESOLUTION2560 x 1440 (WQHD)REFRESH RATE165HzRESPONSE TIME1ms GTGPANEL
TYPERapid IPSBRIGHTNESS (NITS)300 nitsVIEWING ANGLE178° (H) / 178° (V)ASPECT RATIO16:9CONTRAST RATIO1000:1ACTIVE DISPLAY AREA (MM)596.736(H) x 335.664(V)PIXEL PITCH (H X V)0.2331(H) x 0.2331(V)SURFACE TREATMENTAnti-glareDISPLAY COLORS1.07B (8bits + FRC)DCI-P3 / SRGB97% / 147%VIDEO PORTS1x Display Port (1.2a)
2x HDMI (2.0b)
1x Type C (DP alt.)USB PORTS2x USB 2.0 Type A
1x USB 2.0 Type BAUDIO PORTS1x Earphone outKENSINGTON LOCKYesVESA MOUNTING100 x 100 mm
CONTROL5-way OSD navigation joystickPOWER TYPEExternal Adaptor 19V 3.42APOWER INPUT100~240V, 50~60HzDYNAMIC REFRESH RATE TECHNOLOGYG-sync CompatibleACTIVATED RANGE48 to 165HzDCR100000000:1POWER CONSUMPTION32WSIGNAL FREQUENCY90.9 to 242.4KHz (H)
30 to 165Hz (V)ADJUSTMENT (TILT)-5° ~ 20°ADJUSTMENT (SWIVEL)-75° ~ 75°ADJUSTMENT
(PIVOT)-90° ~ 90°ADJUSTMENT (HEIGHT)0 ~ 100mmDIMENSION (W X H X D)614.9 x 532.7 x 206.7 mm / 24.21 x 20.97 x 8.14 inchCARTON DIMENSION (W X H X D)730 x 490 x 220 mm / 28.74 x 19.29 x 8.66 inchWEIGHT (NW / GW)6.05kg / 8.7kg
13.34lbs / 19.18lbsFRAMELESS DESIGNYesCONSOLE
MODE2K Resolution PS5™ Optimization
FHD @ 120Hz
* All trademarks and the registered trademarks are the
property of their respective owners.COMPATIBILITYPC, Mac, PS5™, PS4™, Xbox, Mobile, Notebook
* All trademarks and the registered trademarks are the
property of their respective owners.Important InfoDisplay Port: 2560 x 1440 (Up to 165Hz)
Type C (DP alt.): 2560 x 1440 (Up to 165Hz)
HDMI: 2560 x 1440 (Up to 144Hz)
The color gamut follows the CIE 1976 testing standard.